The 2014 Brandi's Memory Rock's On Team had 31 members and raised $3,355.00.

Brandi would say "You Rock!" for helping us Run for the Rose....Run for the Children.....Run for a Cure for brain cancer....Run in loving memory of Brandi Nicole Ward.

This memorial website was created in the memory of our beloved Brandi who was born in Wharton, Texas on December 30, 1980 and passed away from brain cancer on February 17, 2006 at the age of 25. It has been a labor of love. It has also been great therapy for me and is a way that I can keep my Brandi's memories alive forever. I have had lots of help from my angel moms. They are "Sisters in Sadness" with me. They have lost children and have websites for their kids too. They are very sharing with their ideas, expertise and words of comfort.

This website IS NOT about sadness. It is instead a way of remembering the life and times of my Brandi. She would not want any tears. She would instead only want smiles and laughter while you share the memories of her life. Light a candle, leave a tribute, read her timeline and the legacy she left behind or just be inspired by her story. She is my hero and my special angel. Jamie and I miss her more each and every day. We know, however she is enjoying the majesty of heaven with her Daddy and we will one day see each other again.

Life is precious and should not be taken for granted. Take time out in your busy day to let your loved ones know you care. Thanks for visiting my Brandi's website. May God Bless You Always.

Love, Marguerite, Angel Brandi Mom's

On December 30, 1980, the Ward family became complete. That was the day Brandi Nicole Ward made her debut into the world. She came into this world weighing 9 lbs and was 20 ½ inches long. She was born at Gulf Coast Medical Center in Wharton Texas. She came home from the hospital to East Bernard, Texas, the only family home she would ever know. From the moment she was born she was active and always exploring the world. She had not started walking yet at the age of one but that didn't matter. She crawled and climbed faster than lightening. In a two week period she climbed up on her high chair and fell over requiring her to have seven stitches at the local ER. Just one week later she climbed on top of Jamie's table and fell again jamming her teeth this time. She put lots of grey hairs on her mom's head but was no doubt our little monkey.
On March 29, 1981, Brandi was baptized at First United Methodist Church in East Bernard, Texas. This would be her church family for her entire life. It was also the beginning of her journey of faith. This faith would be her strength during the challenges life had in store for her. Little did we know that just 20 years later to the day our family would lose one of its' precious members
and never be whole again.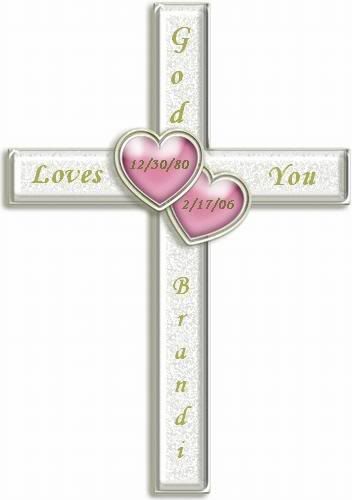 On September, 6, 1983 Brandi began going full time to "Wee Little Peoples Playland". She was almost three years old and it was here she met her best friend, Sheree'. The friendship she built with her was one of life's little jewels and one that she treasured to the very end of her life. Mrs. Hlavinka gave them the love and attention they needed while Mom and Dad were working. Life was so simple then.
Happy 3rd birthday Brandi!
On September 3, 1986 Brandi started Kindergarten at East Bernard Elementary. Her teacher was Mrs. Norma Robinson. She and Sheree' continued to be inseparable as best friends but her circle of friends grew larger. Her elementary years brought Lindsey, Holly, Shae, Emily, Rachel, Tanner, Dustin and Chris into her life. They would remain by her side in good times and bad times. They were and always will be her "Forever Friends".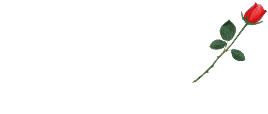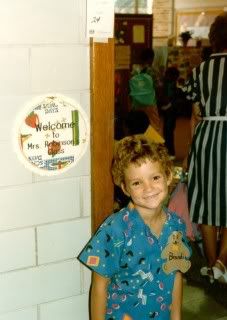 In third grade she joined 4-H. During the next ten years, 4-H would become a big part of her life. She enjoyed and was involved in almost every aspect of it. She was on the 4-H County Council and was a member of the Wharton County Junior Fair Board. In 1998 she raised the Grand Champion Rabbits at the Wharton County Youth Fair. She and her daddy worked closely together on that project and it was an especially proud moment for them both. She was also honored to get the 1998 Wharton County 4-H Gold Star Award and the 1999 Texas 4-H Foundation Scholarship. It was through 4-H she also got an opportunity to go to Texas A & M during State Roundups. This set her on the path to be an "Aggie".
Her elementary years were filled with many fun events. She played softball with the Colts, New Kids on the Block and the Wild Things. She and Sheree' taught other 4-H members how to bake a cake and how to wash clothes with their method demonstrations. In school her teachers were helping to mold her into the awesome young woman she was to become. Little did we know that one day these same teachers would be her co-workers. The summers were busy with swimming at the local pool, going to different camps and vacation bible schools and riding bikes around the neighborhood. The roads to Sheree' and Lindsey's houses were well worn. Our small community was a safe and perfect place to raise our girls. Ronnie and I felt so blessed.
J
unior High brought new adventures Brandi's way. She loved playing volleyball and basketball. She learned how to play the saxaphone in the band. At the age of 11 she already knew she wanted to be a teacher. She wrote in a school assignment that she wanted to be a teacher because she liked to help others. In that same paper she wrote that she might get "as mad as a bucking bronco at some of the kids but other times she would be as happy as a jolly green giant!" She was a class representative and also participated in UIL. It was during these years that she began to see the world. In 1993 we spent Christmas in Angel Fire, New Mexico with Uncle Rudy, Aunt Bonnie and her cousin Britney. She and Jamie learned to snow ski for the first time. During the summer of her eighth grade year, she was able to go to 4-H State Round-up for the first time which was held at Texas A & M. That same summer she went to Jackson Hole Wyoming with a dear friend Lindsey and her family. It was there she had a close encounter with a buffalo. She was spreading her wings and beginning to fly. Our little girl was growing up right before our eyes.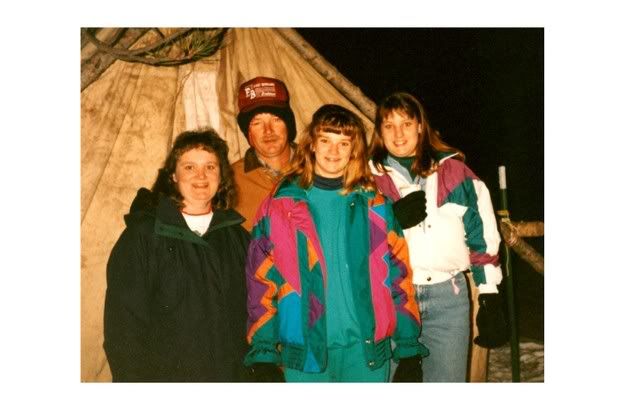 Our happy family in Angel Fire, New Mexico on Christmas Day, 1993
It is going to be hard to condense all Brandi's high school activities into a few simple sentences but I will try. She was involved in so many different organizations and activities. The Class of 1999 was a very close knit group and they shared many fun times during the four years they were all together.
Brandi was a very proud member of the East Bernard Brahmarettes volleyball and basketball teams. She had the upmost respect for her coaches and I feel they helped prepare her for the future. Coach Pullin was a hard taskmaster as a volleyball coach but the lessons she taught Brandi helped her when she had to compete against the hardest opponent she would ever meet -- the dreaded monster known as cancer. Brandi spent so many hours on the volleyball court with Sheree', Holly, Lorie, Shae and the rest of her teammates determined to get a State Championship. That was not meant to be but she gave it her all. She had a very special relationship with her Basketball coach, Mrs. Lechler. Though the basketball team wasn't championship quality, they had such fun times playing for her.

Band also was a big part of Brandi's high school years. She and Sheree' both played the saxaphone. Their band was a Sweepstakes Band all four years she was in high school. They barely missed out of being chosen one of the best bands in the State her senior year. She enjoyed her times in the band except maybe the time she had to dance with a dummy. Just for the record, the "dummy" was a lifesize stuffed doll made to look like her dad and was part of a half time performance for those in the Band Flag Corp at a playoff football game. Needless to say this did not fit the "image" Brandi felt she wanted to portray so that would be the last year she would be in the Flag Corp. She felt it was safer just being a member of the band.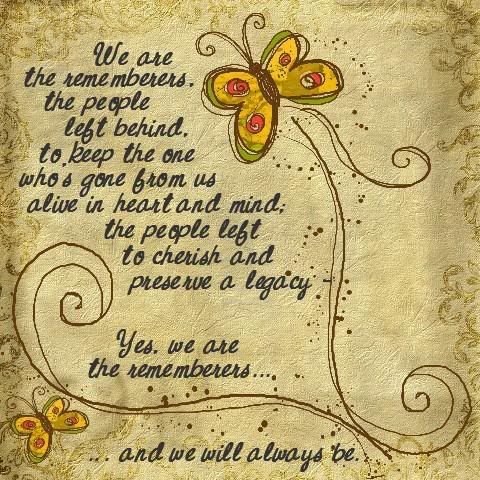 Brandi was a class officer and student council representative all four years in high school. She, Sheree' and Holly proved to be leaders within their class. That could have its disadvantages, however, especially when planning a junior/senior prom. It was on a trip with some of her friends to see a potential site for the prom that Brandi got not one but three traffic tickets.....not having a current drivers license (she just hadn't had time to renew it)......not having proof of insurance (she had meant to put the card in her car but had never gotten around to it).....and speeding (her story was the speed limit changed too quickly and she had no idea how fast she was going). It was going to cost her a small fortune in fines so she pleaded her case before the judge. No one else was given any mercy that day but my Brandi and her big brown eyes won over the judge and got her fines reduced significantly.

Prom time was a big part of Brandi's high school memories too. She was a server at the Prom her Freshman year. That was the same year she had "orange hair". She had decided to do something fun for the prom so she had her hair dyed. It didn't take like it was suppose to and she had to spend a few weeks with very orange hair. Her friends and classmates wouldn't let her forget that episode of her life. She wore a pretty blue formal to the prom her sophomore year. Her escort was Mark and they went with a large group of friends that included Emily, Rachel, Sheree and Chrissy. Her junior year she wore a beautiful red sequined gown and her escort was Corbin. They went with another large group of friends and were chauffeured by MYF sponsors Roland and Shirley. They were definitely given the "red carpet" treatment that night. Her senior prom was not what she had hoped it would be because of high school drama between friends but she still had a good time with her special friend Matt. She looked beautiful in her navy blue sequined gown. She and her friends had lots of fun memories from the magical nights of Prom.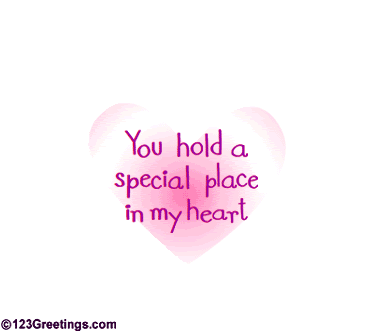 Another big part of Brandi's life was her Methodist Youth Group. The four Mission Trips she went on helped her learn how fortunate she was and how to truly reach out and help others.
The summer after her freshman year in high school, eight MYF members and sponsors, Roland and Shirley, traveled to Atlanta, Georgia. Once there, they worked at Common Ground, an Aids Soup Kitchen and Masters House, a homeless shelter. Here they met with those less fortunate and learned first hand the struggles these people had. They also had some fun times when they went white water rafting and Hand-gliding. It was no doubt an eye opening experience for these "sheltered" kids from East Bernard, Texas
.
The next summer would find the MYF group on a mission trip to Nashville, Tennessee. There they worked long hours helping to build a Home for Humanities. They became close to the family the home was being built for. These kids, who had always had a nice home, suddenly learned how precious a home can be for those who aren't as fortunate. Again there was fun mixed with work. This time they went to a Nashville Sounds baseball game, saw the Opreland Hotel and ate at the Blue Bird Cafe.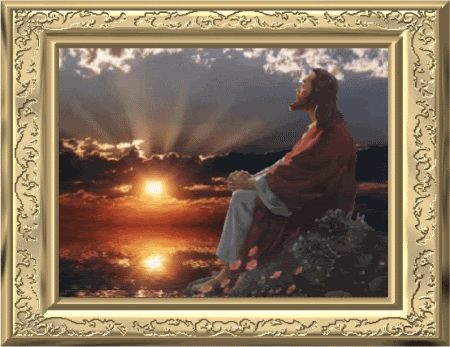 Chicago, Illinois proved to be one of the most meaningful mission trips Brandi would go on. It was here her MYF group learned that poverty is not only a lack of money, possessions and health but can also be a lack of love. As they painted and help clean apartments at Cabrini Gardens housing project, they learned first hand the challenges kids have living in the projects with little or no parental guidance. Left on their own, the children grow up to join gangs. Their main goal in life is survival in the drug infested streets of the projects. Again the Mission trip had some fun moments as they saw the Sears tower, the Hancock Center, Second City and even managed to catch a baseball game at Wrigley field.
Her senior MYF trip was to Colorado Springs. There the group learned to appreciate nature by working at Wildlife Forever, a animal and bird refuge and building a wilderness trail in a local mountain park. There was still time to see Pikes Peak, the Air Force Academy and the Garden of Gods park.
Roland and Shirley gave Brandi and the rest of her MYF group some incredible experiences but the most important lesson they taught my Brandi was how to walk in faith. They were wonderful role models for her and they became another one of her adopted families.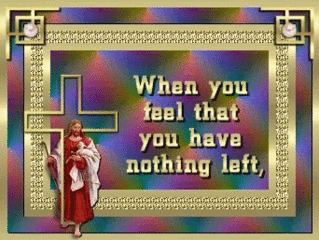 Brandi liked the independence money could bring so she began babysitting at a early age. Because of her love for children she was kept very busy. It is through this job, the Duseks became yet another of her adopted families. She and Sheree' began babysitting for Catie (age 2) and Collin (age 1) during one summer. By the time Quinn came along, the family had already embraced Brandi and made her one of their own. The first words Quinn said were "Mom", "Dad" and "Beautiful Brandi". My Brandi took credit for the "Beautiful Brandi".
Once she was old enough, she began lifeguarding at our local pool and teaching swimming lessons. Again, it allowed her to be involved with the small children she loved so.

In high school, she also began working part time at Vincek's Smokehouse. The first year she, Sheree and Emily worked there, Mr. Vincek was so taken by the three he told them that when they turned 21 he was going to take them to Las Vegas. As they were only sixteen years old at the time, I thought there wasn't much chance of that but sure enough, five years later, Mr and Mrs. Vincek took the three on a once in a lifetime trip to Vegas. Again...my Brandi had wormed her way into another family's heart.
She also worked at Wharton Junior College and Loupots Bookstore in College Station during her college years and made more friends along
the way.
Brandi was always in motion from the very time she was born. Looking back, it is almost as if she knew she only had a short time to accomplish everything she wanted to accomplish. She loved to travel and went more places in her 25 years of living than many do in a lifetime.

Her first airplane trip was with Sheree' to Boise, Idaho to visit my cousin Renee and her family. She loved to snow ski. When Sheree's family took a family skiing trip to Colorado it was only natural Brandi would tag along since she thought she was part of their family. There were several other fun Colorado skiing trips she went on with groups of friends. During her college years, she was always planning "road trips" with her friends to float the river in New Braunfels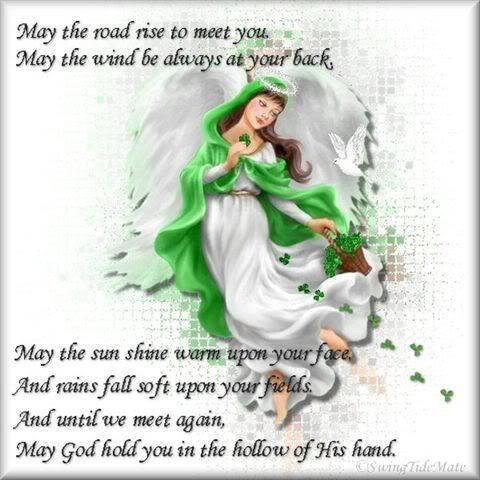 The summer after her freshman year of college, she went with the Duseks to Ireland. That was a once in a lifetime trip. She stayed there for three weeks and was able to truly experience the beauty of Ireland and made fun loving Irish friends along the way




Brandi with Colin, Quinn and Boyle's family she stayed with while in Ireland.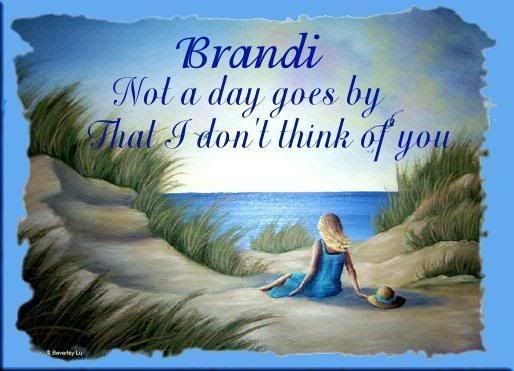 She was always wanting to try new and different things. Yes.....she did go ski diving. She, Sheree', Emily and Rachel had decided that they wanted to try it just once. They convinced Mr. Vincek to go with them. Coming along for moral support was Mrs. Vincek and Rita, Sheree' mom. Once there, they even decided to jump. When all was said and done, each of them had a wonderful experience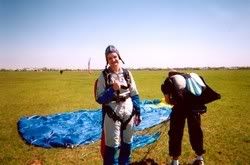 Here is proof she survived.
Her skydiving buddies


Brandi embraced college life. She, Sheree' and Holly remained roommates throughout their entire stay at Texas A & M. Later Sabrina, Amy and Lorie would join them as roommates. Those years were probably the best years of my Brandi's life. She loved everything about being a Aggie. There were football games to go to, dancing at Harry's, hanging out at the "Dixie Chicken" and she even managed to get a little studying in while she was there. She graduated in August, 2003 with a BS degree in Interdisciplinary Studies. Now she had all she needed to be a teacher. And what a teacher was she to become!
Here she is with her Aggie dog, Abby
Brandi loved chocolate and she would
have LOVED this rule!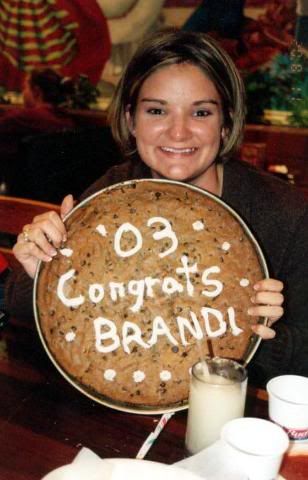 Just three days after graduating from college, Brandi began teaching fourth grade at Anson Jones Elementary in Bryan, Texas. This would prove to be a challenging yet rewarding opportunity for Brandi.

Christmas Eve, 2003

This should have been a time of celebration for my Brandi. She had just finished college and had started teaching for the first time. Unfortunately, while others were preparing to celebrate the holidays, we were just learning of Brandi's brain tumor and coming to terms with the fact that her life was in danger.

Her timeline will give you all the details of her struggles with this dreaded monster known as cancer. Throughout the two years Brandi showed incredible courage, faith and dignity. She was an inspiration to all who loved her. She was and always will be my hero.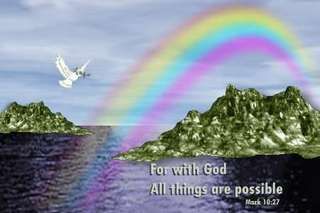 From Brandi's Journal.....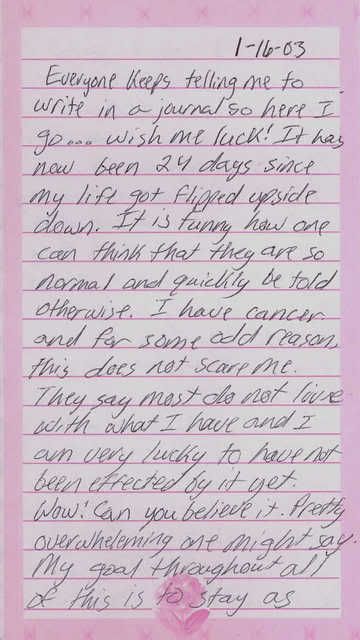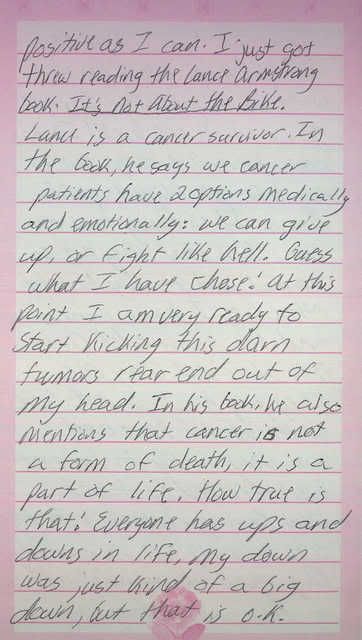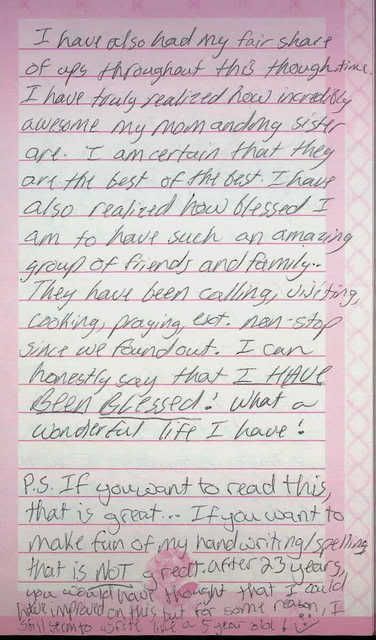 Cancer is so limited...

It cannot cripple love
It cannot shatter hope
It cannot corrode faith
It cannot destroy peace
It cannot kill friendship
It cannot suppress memories
It cannot silence courage
It cannot invade the soul
It cannot steal eternal life
It cannot conquer the spirit.

Author Unknown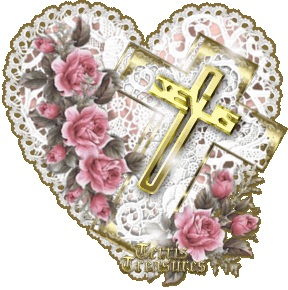 As I said many times, we felt God's presence with us every step of the way. He sent family, friends and even strangers to pray for us, encourage us, comfort us and help us during our darkest hours. He gave us a Miracle in February, 2004 when we were told her tumor was not what it was first diagnosed as but instead a rare benign tumor. This gave Brandi such hope and she began to plan for the future.

Brandi was unbelievably strong enduring not one but two brain surgeries within two months of each other. She worked hard to recover from these surgeries and defied odds by returning to teach that next September. She was so excited when she was hired as a kindergarten teacher in East Bernard for the 2004-2005 school year. She had always wanted to teach either kindergarten or first grade so this was a dream come true.



Unfortunately just before starting the school year, Brandi's tumor began to grow again. She had to begin chemo but continued to teach missing days only for doctors appointments. She loved what she was doing and was determined NOT to let the cancer get in the way of that.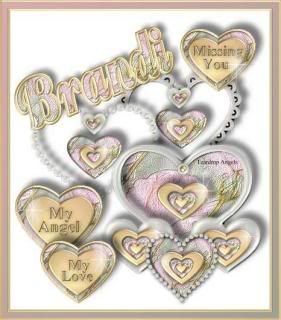 For about a year Brandi took the chemo. While it left her tired and sometimes sick, she continued to live her life as normally as possible. She completed her first year teaching kindergarten and was looking forward to a relaxing summer. Then the headaches began again. The chemo wasn't working. She had to endure six weeks of radiation and missed the first week of school

Her second class of kindergarteners were as special to her as her first class was. She worked hard to give them all the tools they would need to be successful in their education. She taught them all to study hard, make good choices, be kind to people, eat lots of chocolate and go to Texas A & M or the college of your choice.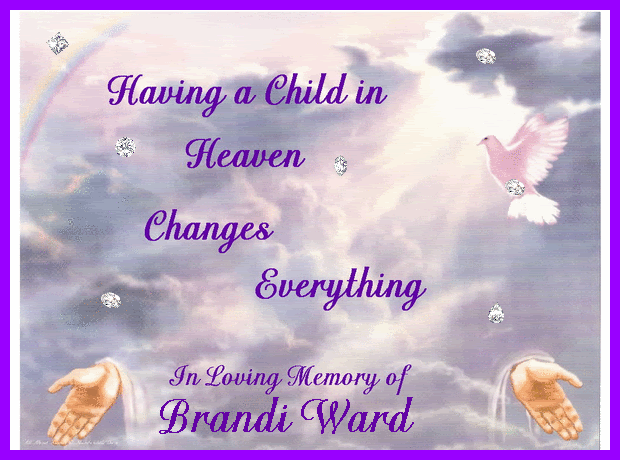 The radiation had taken its toll on Brandi but she never complained. What was most frustrating to her was the fact that she was just not physically able to do all that she once could do. She was so independent and hated to ask for help from others. We had hoped the radiation would cause the tumor to become dormant but again that wasn't meant to be.


January, 2006 was an exciting time in East Bernard. It was the month that the ABC Extreme Makeover - Home Edition came to our town. Brandi, Jamie and I had the privilege of helping build a home with Royce Homes and the Extreme Makeover team for the very deserving Kubena family. The family has twins who were diagnosed with leukemia at the age of three. They had both been in remission but unfortunately Tara's had come back. She had just had a bone marrow transplant and was staying at the Ronald McDonald House in Houston with her mom. Her family was struggling financially and was in dire need of a helping hand.





Earlier that month Brandi and I had stopped by the Ronald McDonald house to visit Tara and her mom. This is where I took this precious picture. I think Bald is Beautiful.




During "the build" Brandi and 17 other cancer survivors in our community donated an Oak Tree to the Kubena family along with a plaque that said what all cancer survivors know...."Hope is built on strong roots". This presentation was captured on film and the night of her celebration of life, my Brandi also made her National TV debut. Only my Brandi could have planned such a send off.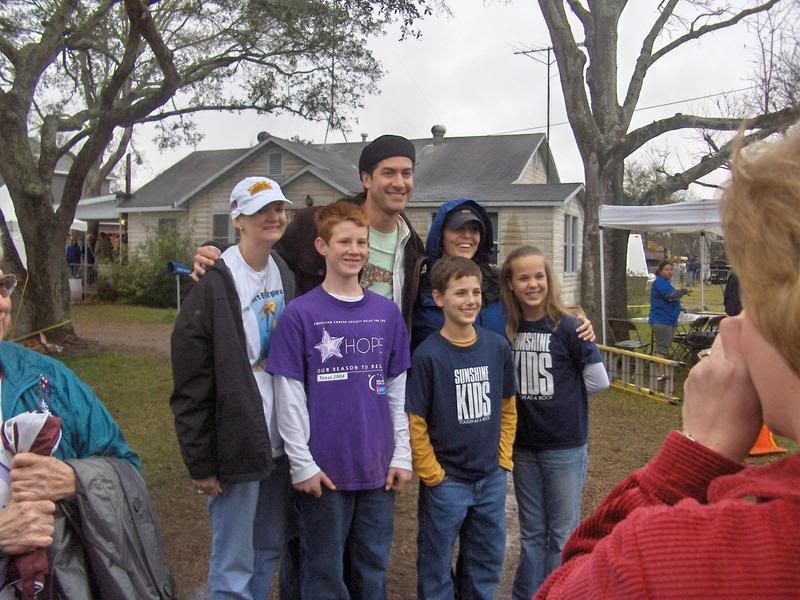 The week of the Extreme Makeover Build was a fun one for our family. It also, however, was the beginning of my Brandi's final battle with cancer. At her last doctor's appt on January 6, 2006, Brandi's MRI showed no growth. Just three weeks later and the day after the Makeover "Reveal", Brandi was admitted into the hospital. She had suddenly lost the use of her right arm and partial use of her right leg. That MRI showed the tumor had grown significantly in just three weeks.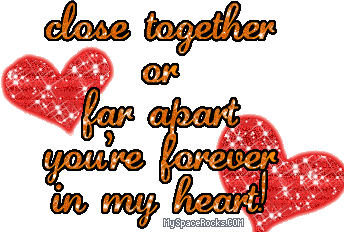 The next three weeks were a blur to me. Brandi struggled to regain what she had losted. Her doctors tried new chemo cocktails but it didn't help. On February 15, 2006, her MRI showed explosive growth. Dr. Yung had done all he could and now we had to place Brandi in God's Hands.





Life is like mail....sometimes you just don't get it. That was one of the many quotes my Brandi had written down in a journal of quotes she was keeping. It is so true. I don't get why she was taken from us at such a young age but that is OK. God had a plan for my baby and His plan for her ended February 17, 2006. The human doctors could not heal her so her sister, Jamie, best friend Sheree' and I were with her as she made her way to Heavens door. God met her there and, because he is the Master Physician, he made her whole and healthy once again. Once she was healed she went into the loving arms of her daddy, who left us almost five years before. No one loved his little girl more than her daddy.





We wanted to have a celebration of her life and what a celebration it turned out to be. Her sister, Jamie, planned everything to perfection and a host of family and friends helped make it happen in just one day and a half's time. They estimate over 1000 people attended her Celebration of Life. A group of friends and family gave wonderful testimonies about her life but many of the words came directly from Brandi. One of her friends said "Like always, Brandi is still playing mother hen. There are no need to search for words to say. She had it all here in her journals waiting for us to find".

When the time came for Brandi to be carried to her final resting place what better way to leave than with the Aggie fight song. They played it 8 times in order to get all the people who had come out of the hall and into the parking lot. Once everyone was outside, we let go of 1000 primary colored helium filled balloons in honor of my Brandi's arrival in Heaven. Each balloon had one of the sayings from Brandi's journal on it with a note saying that it was sent in loving memory of her. It was an awesome site.

1000 balloons in celebration of Brandi's arrival in Heaven.

Forever Friends letting go of balloons in memory of their friend.

Jamie & Jamie remembering Brandi with balloons

One of Brandi's favorite sayings was "You Rock!"
She often said it when someone did something
she thought was special.




Brandi
"You Rock" in every heart you touched!





This special chair was part of the East Bernard ISD elementary library Makeover we did in Brandi's memory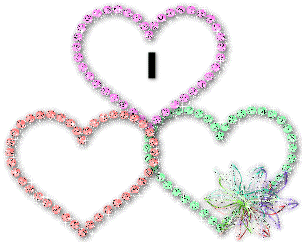 I loved Brandi more than life itself but I always said that as long as my baby was OK I would be OK. The night before she entered Heaven, she struggled to be able to speak the words she wanted to say because the tumor had already taken over so much of her brain. The last sentence she said to me however was "It will be OK". I won't pretend this is going to be easy for Jamie and I but I have comfort in knowing that she is in a much better place. Another quote she had written down sums it all up. "You should never put a question mark where God has put a period". My Brandi has put a period on her life here on earth and now she is writing a new chapter on her life in Heaven.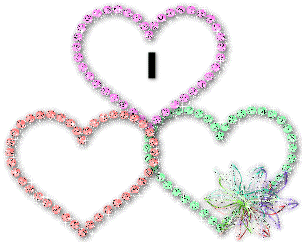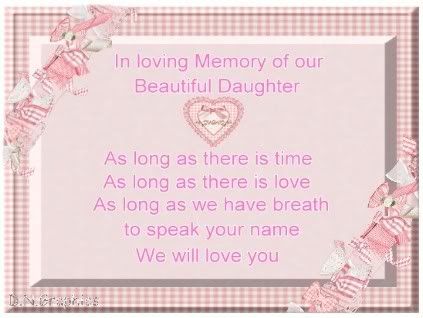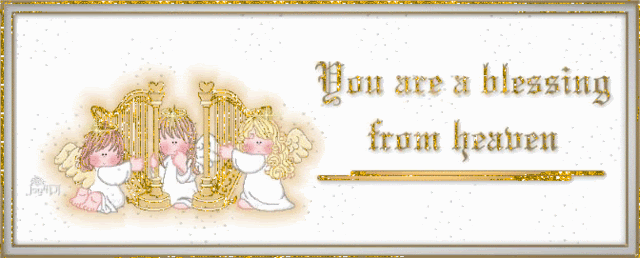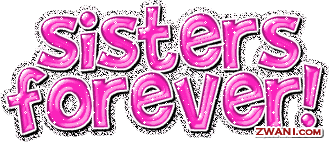 Jamie and Brandi shared a special bond only sisters can share. Jamie was there for her sister with love, encouragement and comfort.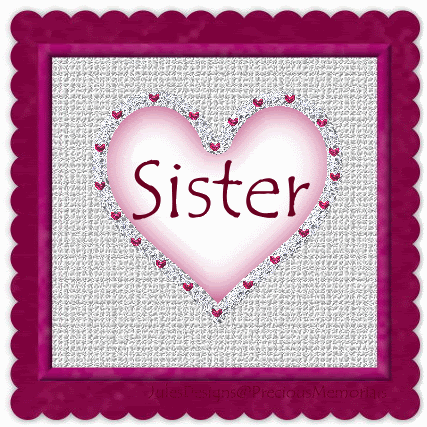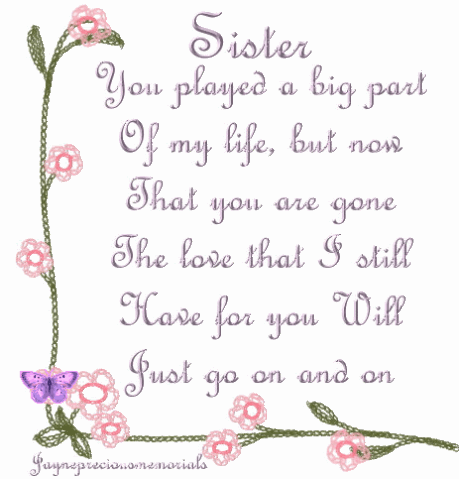 Created by Judie Smart http://craig-smart.memory-of.com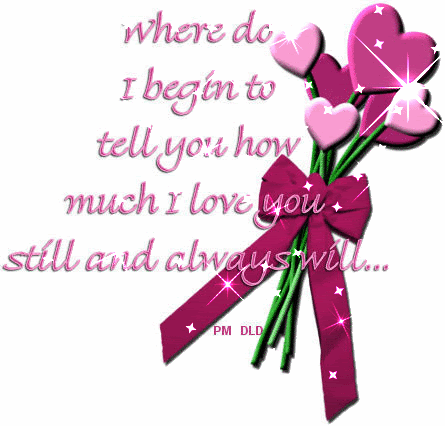 Created by Kathie Raley
In memory of: http://krystal-ebel.memory-of.com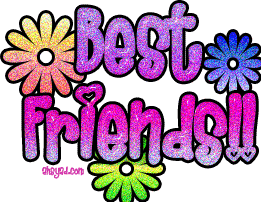 Sheree' and Brandi were the very best of friends. The friendship they shared began when they were both just two years old. For the next 23 years you rarely saw one without the other. Brandi was Sheree's maid of honor in her wedding. The night before her wedding, Sheree wrote Brandi the following letter.....

"From little farts at daycare to grown up school teachers.....What an amazing friendship we have made! I don't think there are many people in the world that can say they made a friend at the age of 2 and that friend continues to stay by their side. I think of the kids we'll teach and hope they will develop a friendship like ours."

"There are so many memories we have made and I think of them all the time. Some of my favorite....making a movie at my old trailer house with Chrissy.....Knocking at Ms. Marshall's house......Learning to bake a cake with you.....A ski trip to Idaho....Putting on a cheerleading performance at the lake house....Ice skating at the Galleria.....You teaching me to drive a standard.....Standing beside you at the net as hitters on the volleyball court....Holding chickens upside down at the Fair.....Moving in as college roommates.....Trying to outprank each other .....Sharing a room as college roommates....Dunking our Aggie Rings together....and the list goes on.

And then I found someone who I love just as much as you and I am so excited about that! You have made me a happy person and I see myself laughing at our past memories all the time. I feel very lucky and blessed to be able to have two best friends now. Someone asked me once that if I had to pick between Jarrod and you, who would I chose? I told them I would never have to."

When going through some of her things after Brandi had passed away, Sheree found some papers they had done in kindergarten. It was for Sheree's "I am special book. If you look closely at it you will see something really awesome. It is as if my Brandi knew that she would one day be Sheree's guardian angel.

On 8/08/08 Precious Little Tessa Nicole Beal made her debut into this world. Her proud parents are Sheree and Jarrod Beal. This little angel was sent down from Heaven with a kiss from an angel. Her own guardian angel, Brandi Nicole, kissed her on her little bootie before sending her to earth. She has a little birth mark to prove it. It also proves my Brandi still has her sense of humor even in Heaven.



They say that friends are angels without wings who are there to pick you up when you fall. Brandi had an incredible network of "Forever Friends". They were there for her in the good times and the bad time. They each had a very special place in her heart.

Surrounded by her best friends. Since she spent her 23rd birthday in ICU, in the summer they surprised her with a 1/2 birthday party for her 23 1/2 birthday.


Brandi loved Chris and Dustin like brothers


Amber and Brandi were special friends. When Brandi died, Amber was heartbroken. Little did we know that just a little over a month later Amber too would become an angel. Though we miss them terribly we know that together they are enjoying the majesty of heaven. They are and always will be our "Aggie Angels".

Family was

important to Brandi


Brandi adored her Daddy!
He went to Heaven 3/29/01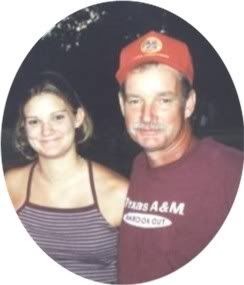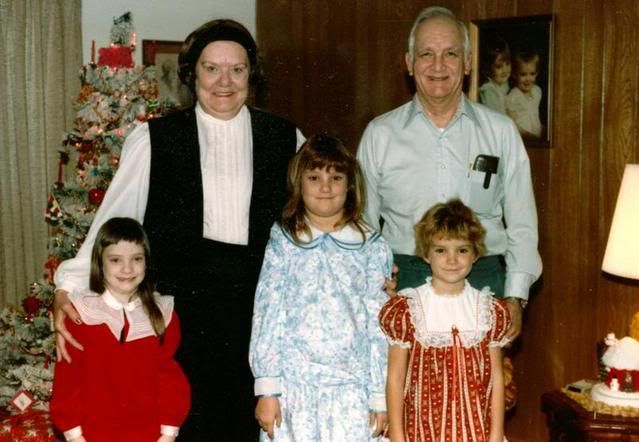 Grandparents & Cousin
Mimi, Opa, Rose, Jamie and Brandi

Mimi joined Brandi in Heaven on 11/22/06


Here she is with four generations of Wards

Everyone in this picture except Jamie are now Angels with Brandi


Uncle Kenny and Aunt Dinah and their family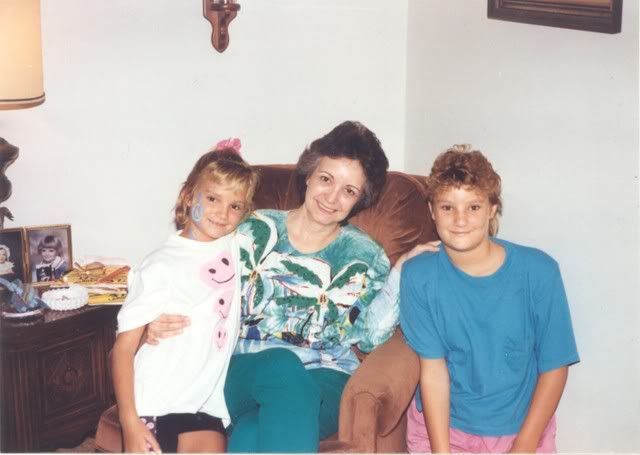 Aunt Twyla and Brandi had a special relationship
They shared the same birthday.



Great Grandparents:
Mam-Maw and Pa paw Ward

Brandi joined them in Heaven




Great Grandparents
Mam-maw and Pop Stone

They are also in Heaven with Brandi




She also had a host of aunts, uncles, cousins and friends that meant the world to her.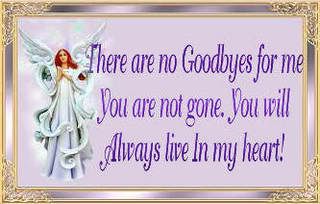 Brandi's Adopted Families


Some say it takes a village to raise a child. That was certainly the case in raising Brandi. Ronnie and I did the best we could but I think God knew we were going to need help so he sent some wonderful families Brandi's way.




Since she and Sheree' were together 24/7, it was only natural that Brandi would become a part of her family. Sheree's parents, Rita and Mark, were like second parents to her. Brandi became a part of the Jochec/Korenek family
and loved them as if they were her own.

Brandi and Sheree's dad Mark had many fun
times together.



At an early age, Brandi wormed herself into the hearts of our neighbors, Cindy and Danny Gertson. She babysat their children but often would just go over to talk with them. After Brandi's daddy had passed away, she often went to Danny for fatherly advice. Danny was with us every step of the way during her battle with cancer. He was our "calm in a stormy sea". This family was a nugget of gold in my Brandi's treasure chest of friends. She considered them family and loved them so.


"Blessed is the influence of one true loving human soul on another". That was one of the quotes my Brandi had written in her journal. Two true loving human souls who came into my Brandi's life were Mike and Mickie Farrell. They were friends and neighbors. Brandi babysat for their children when they were younger. Mike was also Brandi's doctor. He had taken care of her medical needs for years. He was the first to have to give us the bad news about Brandi's tumor. From that very first moment, he was there for Brandi giving her encouragement, advice and words of comfort. When he retired from practicing medicine, he began to go with us to her appointments at M. D. Anderson to help us understand all that was going on. He was always there to answer the hundred and one questions Brandi asked. She looked to him for guidance, for advice and for comfort. Mickie was a special angel to my Brandi also. She volunteered in Brandi's classroom. They made such an awesome team. Brandi treasured the fun times and the friendship they had.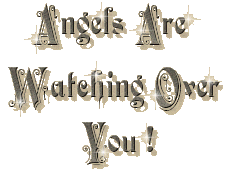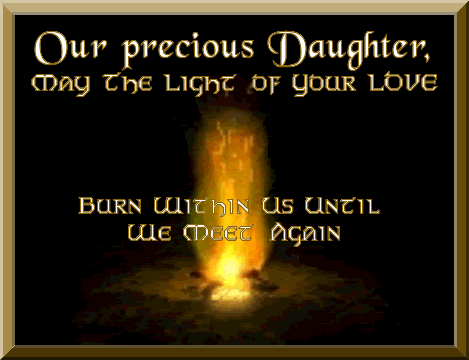 Thanks to all the following websites for
the use of their free graphics.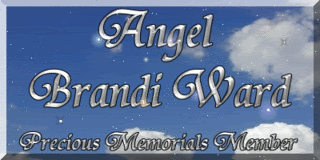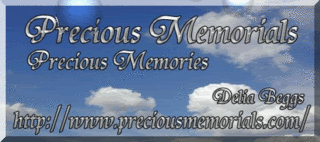 www.give-a-graphic.com
www.glittermaker.com
www.snugglepie.com
Thank you also to all the angel moms
and angel friends who
have helped me with this site